Watford Junction to Rugby for openBVE
---
On this page, you will be able to download the Watford Junction to Rugby project, designed for openBVE, once it is released. You can follow progress with the project as it's being developed, via the Railsimroutes.net Blog.

Please note that this project is currently in development
. This is a new route project which takes advantage of numerous features and capabilities provided by the modern, open source,
openBVE
simulator.

If you are looking for the legacy BVE Trainsim predecessor to this route (the now extremely dated Watford Junction to Milton Keynes Central), please
see here
instead.
Contents
---
Further Information
---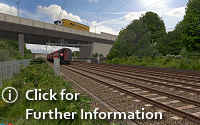 The downloads will be presented below when released, but if you would like to read more about the Watford Junction to Rugby project, view screenshots, learn of it's history, find out how to drive the simulated route, or read information about the real line, please see the Watford Junction to Rugby » further information page «.

Route length: Approx. 65 miles (105 km) via Weedon
Line speeds: 25 to 125 mph (40 to 201 km/h) on the fast lines; 25 to 90 mph (40 to 145 km/h) on the slow lines
Diagrams: Watford Junction, Milton Keynes, Rugby (classes 390, 86, 87); all stations (class 321); non-stop Wolverton to Rugby (class 323)
Journey time: Approx. 45 minutes at 110 mph timings (Weedon route)
Era: 2001-2005 (other eras may follow as add-ons, including the Electric Blue and 1980's routes)
Traction: Various 25kV AC traction -- class 390 Pendolino, class 86/87 loco hauled, class 321 25kV AC EMU, plus bonus class 323 diagram from Wolverton (and others may follow)
Download the Route and Trains
---
Current version: -.-.- (release date: TBA)
Target simulator: openBVE

Route Package:
»
Watford Junction to Rugby v1.0
[?? MiB]
-
Not released yet!
Dependencies:
»
UK Railway Infrastructure Object Library v1.0
[?? MiB]
-
Not released yet!
Trains:
»
390 25kV AC EMU
[
hosted on trainsimcentral.co.uk
]
-
Look for '390_openbve_13.11.08.exe'
»
Exterior car objects for the class 390
[
Hosted externally
]
»
Class 86 25kV AC Loco
[?? MiB]
-
Not released yet!
»
Class 87 25kV AC Loco
[?? MiB]
-
Not released yet!
»
Class 323 25kV AC EMU
»
3D Cab add-on and UkTrainSys plugin for class 323
[2.3 MiB]
-
openBVE users only; please install the above class 323 first
-
Note: Requires openBVE v1.2.10 or greater
Content last updated: 10th April 2019