Birmingham Cross-City South for openBVE
---
On this page, you will be able to download the Birmingham Cross-City South project, designed for openBVE, once it is released. You can follow progress with the project as it's being developed, via the Railsimroutes.net Blog.

Please note that this project is currently in development
. This is a new route project which takes advantage of numerous features and capabilities provided by the modern, open source,
openBVE
simulator.
The 3D cab for the class 323 25kV AC EMU has been released however, and can be downloaded below.

If you are looking for the legacy BVE Trainsim (
and fully openBVE compatible
) version 1.31 of this route, please
see here
instead (last updated 21st August, 2010).
Contents
---
Further Information
---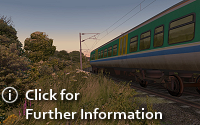 The downloads will be presented below when released, but if you would like to read more about the Birmingham Cross-City South project, view screenshots, learn of it's history, find out how to drive the simulated route, or read information about the real line, please see the Birmingham Cross-City South » further information page «.
Route length: 15.6 miles (25.1km)
Line speeds: 10 to 90 mph
Diagrams: Redditch / Longbridge to Birmingham New Street
Journey time: Approx. 35 minutes (from Redditch)
Era: 2002 - 2005
Traction: Class 323 25kV AC EMU
Download the Route and Train
---
Current version: -.-.- (release date: TBA)
Target simulator: openBVE

Route Package:
»
Birmingham Cross-City South v2.0
[?? MiB]
-
Not released yet!
Dependencies:
»
UK Railway Infrastructure Object Library v1.0
[?? MiB]
-
Not released yet!
Trains:
»
Class 323 25kV AC EMU
»
3D Cab add-on and UkTrainSys plugin for class 323
[2.3 MiB]
-
openBVE users only; please install the above class 323 first
-
Note: Requires openBVE v1.2.10 or greater
»
Alternative wheelflat sounds for class 323
[416 KiB]
Content last updated: 10th April 2019